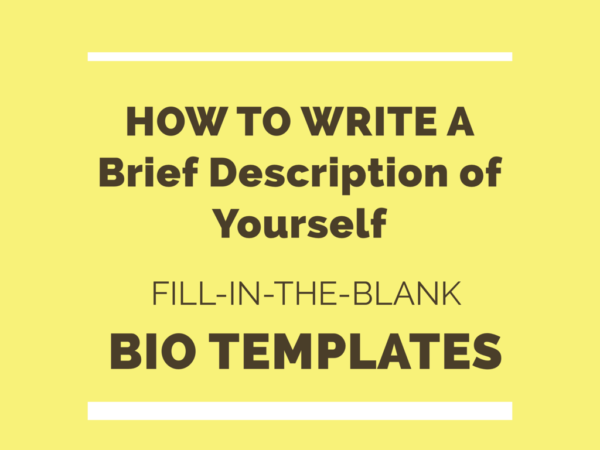 H

ow to Write a Professional Short Bio (With Examples)

Writing a short bio is an important part of introducing yourself to potential employers, clients or contacts. Your short bio has the potential to help you make positive impressions that can impact your professional development and success. If you are interested in learning to write effective short bios, you will need to know what to include and what an effective short bio looks like.

Short bios are concise, biographical paragraphs that professionals use to introduce themselves. You can often find short bios on social media profiles, personal websites and company team directories. Short bios are typically used to provide a summary of an individual's accomplishments, an overview of their career history and a description of their professional goals.

Your short bio is often the first (and perhaps only) thing a potential employer, client or contact will read before deciding to contact you, so it is important that your bio be accurate, informative and memorable. It's a good idea to include:
How to write a bio about yourself
1. Give an introduction of yourself
The first thing to do in a bio is to introduce yourself. It's appropriate to mention your name or moniker if you work in a field where applicable. Next, describe what you do in an interesting way. Describe the impact of your work or business rather than give details of your job description. This is also a great place to talk about your skills or any professional qualifications you have.
2. Include some of your achievements
Some personal bios are lengthy and require more content. For these, you can talk about some of your accomplishments. Select the three most relevant or impressive achievements and briefly talk about them. It helps to highlight the work that merited the award and why it means a lot to you. You can also mention previous work experience or projects as accomplishments. This is great when you worked with a prestigious company or worked on an impressive project.
3. Add some personal details
While this isn't always necessary, especially for short bios, adding some personal information can make your bio more relatable. This is a great opportunity to show off your personality and what makes you unique. It can also be a great way to express your interests and attract like-minded colleagues. This is helpful if your hobby is a side-job since you can network for that too. Beyond your hobbies, you can talk about your family, your favourite sports team, or even your favourite meal.
4. Add your contact information
Another important aspect of writing a bio is including your contact information. This helps direct people toward your preferred mode of communication and makes it easier for others to contact you. You can include your contact information as a call to action to encourage customers to reach out to you. Consider including your social media handles, email, or phone number. If the bio is for a website, you can include a hyperlink to your contact page.
5. Write in the third person
Writing in the third person is referring to yourself by your name like you're talking about yourself. Third-person is typically the standard for formal bios, though this varies. Using the third person also makes your bio more web-friendly. It's easier for search engine optimization (SEO) algorithms to recognize that the bio is about you, making it more likely to appear if someone searches your name.
6. Edit your bio
The last step is to ensure you edit thoroughly. Check that your bio is at the optimal word count. Social media accounts typically require only 10 to 30 words. Professional platforms may take longer summaries, up to 100 words. Personal bios on websites are much longer and can range from 500 to 2,500 words. Also, ensure there are no grammatical or typographical errors. This shows that you're a thorough and organized person.
7. Update your bio regularly
You need to update your bio consistently. This allows you to include new achievements and ensures your audience is up to date. You can do this at least once a year or when a new and impressive achievement occurs.
Resource:
https://www.indeed.com/career-advice/career-development/how-to-write-a-short-bio
https://ca.indeed.com/career-advice/career-development/how-to-write-a-bio-about-yourself
How to Write a Brief Description of Yourself (With Examples)